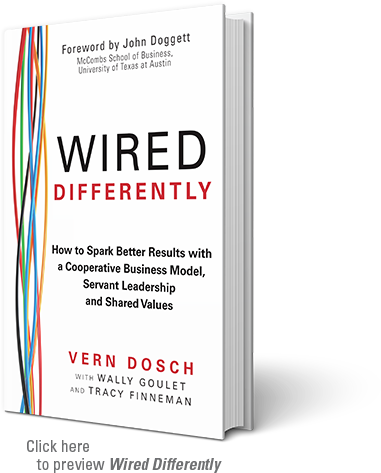 Wired Differently shares the compelling story of National Information Solutions Cooperative (NISC), a nearly fifty-year-old technology business built on the cooperative model. Imagine this:
What if your leaders placed service for others before their position and title?
How would your employees and your organization benefit if values were more than a plaque on the wall; they were put into action?
What kind of business results could you expect when your leaders serve first; your values are lived out loud; and collaboration fuels your culture?
Wired Differently offers a compelling business case for these principles in practice, revealing their transformative power to create a high-performance, collaborative culture.
For bulk sales please call 701.667.6810 or fill out the form below.
Praise for Wired Differently
Martin Lowery
Executive Vice President, Member and Association Relations, National Rural Electric Cooperative Association
Management books come and go, and most are not remembered. This book, as the title implies, is different. It is a tour de force by a genuine servant leader. This is a book about what cooperation really means, about what ethical leadership really means and about what it means to put people before profit. Above all, Wired Differently has made an important contribution to the philosophy of cooperative management that has profound implications for how organizations can and should operate in the future.
Shirley Bloomfield
CEO, NTCA – The Rural Broadband Association
Wired Differently captures the living, breathing spirit of what it means to work cooperatively for the good of others. Unlike many who share their theories on service and leadership, Vern, along with NISC employees, always walk the walk and are the first to find ways to promote collaboration and partnership.
Ted Case
Author of Power Plays: The U.S. Presidency, Electric Cooperatives, and the Transformation of Rural America
Vern Dosch is not only wired differently, he is a masterful storyteller. This is an influential book, a must read for anyone who wants to do the right thing in business and in life.
Monsignor James Shea
President, University of Mary, Bismarck, North Dakota
Wired Differently is much more than the story of a technology cooperative. It is a carefully crafted tribute to what's best in human nature, gathering into its pages beautiful insights about leadership, service, values and happiness. For all who are honored to know him, Vern Dosch is remarkable for his humility, integrity, and his generosity of heart. If you would have told me those qualities could be captured in the written word, I wouldn't have believed it. I just finished Wired Differently, and I'm a believer now!